Biden wins hard-fought White House race, to be 46th president of the United States
WILMINGTON/WASHINGTON: Democrat Joe Biden is set to become the 46th president of the country after a long-drawn-out race to the White House that spanned over four days of ballot counting.
The development came after he won the state of Pennsylvania which got him 20 more electoral college votes, enabling him to cross the required 270 to hit 284 votes. Later, he won Nevada, which added six more to his count, propelling him to 290.
A centrist who promises to bring calm to Washington after four turbulent years under Trump, Biden is the oldest man to win the presidency — a position he twice sought unsuccessfully during his long political career, before being elected vice president to Barack Obama in 2008.
Following the Pennsylvania result, the President-elect issued a statement, saying he is "honoured" that America has chosen him to lead "our great country".
"The work ahead of us will be hard, but I promise you this: I will be a President for all Americans — whether you voted for me or not," the statement added.
"I will keep the faith that you have placed in me."
Biden is also Delaware's longest-serving senator.
Throughout his campaign, Biden has argued that the "soul of the nation" is at stake, and has promised that he would seek to heal a country fractured by Trump's presidency.
In 2008, when he was vice presidential nominee and Chairman of the Senate Committee on Foreign Relations, Biden and Republican Senator Richard Lugar were awarded the "Hilal-i-Pakistan" (Crescent of Pakistan) in recognition of "consistent support for Pakistan".
Biden and Lugar that year had introduced a bipartisan US aid plan which called for aid of $1.5 billion per year in non-military spending to support economic development in Pakistan.
Biden was hunkered down with his running mate Kamala Harris, in his home town of Wilmington, Delaware.
The Secret Service has already begun intensifying its protective bubble around the president-elect, who will be inaugurated on January 20.
Records broken as Harris to become VP
Many records have been broken this presidential race, such as the highest voter turnout — 147 million, of which who Biden got the votes of a record more than 74 million people — and the flipping of traditionally Republican states that led to Biden's comfortable victory.
In another record, Kamala Harris will be the country's first female and first Black vice president.
She will be the first woman to hold the office. She will also be the nation's first Black and South Asian vice president.
Harris, who has represented California in the Senate since 2017, is the daughter of Jamaican and Indian immigrants, and she grew up attending a Black Baptist church and a Hindu temple.
She was the first Indian-American and second Black woman to serve as a senator.
After Pennsylvania was called, Harris said that the election had been a fight about the "soul of America and our willingness to fight for it"
"We have a lot of work ahead of us. Let's get started," she wrote on Twitter.
Trump joins rare club of presidents being defeated
The result now condemns 74-year-old Trump to becoming the first one-term president since George H. W. Bush at the start of the 1990s.
Trump had no immediate reaction to the announcement, but as Biden's lead grew during vote counts since Tuesday's election, the Republican president lashed out with unsubstantiated claims of fraud and claimed, falsely, that he had won.
Earlier Saturday, as he headed to his golf course in Virginia, he repeated this, tweeting: "I WON THIS ELECTION, BY A LOT!"
Biden's road to victory
Biden secured his win by recapturing the Midwestern states of Pennsylvania, Michigan and Wisconsin — traditional Democratic territory that Trump had flipped in 2016 with his powerful appeal to white, working class voters.
With Pennsylvania in the bag, Biden has now accumulated 284 out of 538 Electoral College votes, clearing the bar of 270, thereby making it impossible for Trump to get a second term even if he were to win the remaining undeclared states.
Biden was also ahead in Arizona, and in a near dead heat in Georgia — a southern state that has not voted for a Democratic presidential candidate since Bill Clinton in 1992 and is now headed for a recount.
Results from congressional races indicate that Biden will face a divided legislature, with his Democrats holding a majority in the House and Republicans clinging to control of the Senate — although that could still shift.
The division in Washington will likely complicate immediately Biden's ability to govern, starting with disputes in Congress over a delayed economic stimulus package for Americans hammered by the fallout from the coronavirus crisis.
Biden was confident of victory
Biden was already confident he was going to win the US presidency as his lead grew over President Donald Trump in battleground states, although television networks held off from declaring him the victor as officials continued to count votes.
"The numbers tell us … it's a clear and convincing story: We're going to win this race," Biden said late on Friday, adding that he and his running mate Kamala Harris were already meeting with experts as they prepare for the White House.
Americans have waited longer than in any presidential election since 2000 to learn the winner, as officials methodically count a record number of mail-in ballots in Tuesday's contest. The COVID-19 pandemic prompted many to avoid large groups of voters on Election Day.
With thousands of votes still to count, it was for the longest time not clear when the bitter contest would conclude.
Biden backers danced in Philadelphia's streets, while armed Trump supporters in Phoenix and Detroit said the election was being stolen, despite any evidence of irregularities. Under the banner of "Stop the Steal," Trump supporters planned dozens of rallies for Saturday.
Biden's speech in his home state of Delaware was originally planned as a victory celebration, but he changed his approach in the absence of an official call from television networks and other election forecasters.
Still, it amounted to a blunt challenge to Trump. The Republican incumbent kept out of view in the White House on Friday as Biden's lead grew in Pennsylvania, Georgia, Arizona and Nevada.
Leading Trump by 4.1 million votes nationwide out of a record 147 million cast, Biden said Americans had given him a mandate to tackle the pandemic, the struggling economy, climate change and systemic racism.
"They made it clear they want the country to come together, not continue to pull apart," Biden said.
Trump has remained defiant, vowing to press unfounded claims of fraud as his Republicans sought to raise $60 million to fund lawsuits challenging the results. But some in his camp described the legal effort as disorganized, and so far they have not found success in the courts.
As the counting entered its fifth day, Former Vice President Biden had a 264-to-214 lead in the state-by-state Electoral College vote that determines the winner, according to US media. Democrats grew increasingly frustrated that networks had not yet called a winner.
Pennsylvania held the key
It was highlighted that securing Pennsylvania's 20 electoral votes would put Biden over the 270 he needs to win the presidency.
Biden would also have won after prevailing in two of the three other key states. All three were still processing ballots on Friday.
As officials count a deluge of mail-in ballots, Biden has held on to a narrow lead in Arizona and earlier on Friday overtook Trump in Pennsylvania and Georgia.
In Arizona, Biden led by 29,861 votes with 97% of the tally completed.
In Georgia, he led by a mere 4,289 votes with the count 99% complete, while in Pennsylvania he led by 27,130 votes with 96% of the vote complete.
Biden said Trump's demands to stop the count would not work.
"Your vote will be counted. I don't care how hard people try to stop it. I will not let it happen," Biden said.
Trump hits back
Trump showed no sign he was ready to concede, as his campaign pursued a series of lawsuits that legal experts said were unlikely to alter the election outcome.
"Joe Biden should not wrongfully claim the office of the President. I could make that claim also. Legal proceedings are just now beginning!" he wrote on Twitter.
Republicans aimed to raise at least $60 million for legal costs, although the fine print on solicitations indicates that more than half the money raised would go to paying down the campaign's debts.
A Trump adviser described the campaign's litigation strategy as chaotic and disorganised. Another Republican official said it was doubtful the lawsuits would yield a Trump victory. "This race is over, and the only person who doesn't see it is Donald Trump," said the official, who spoke on condition of anonymity.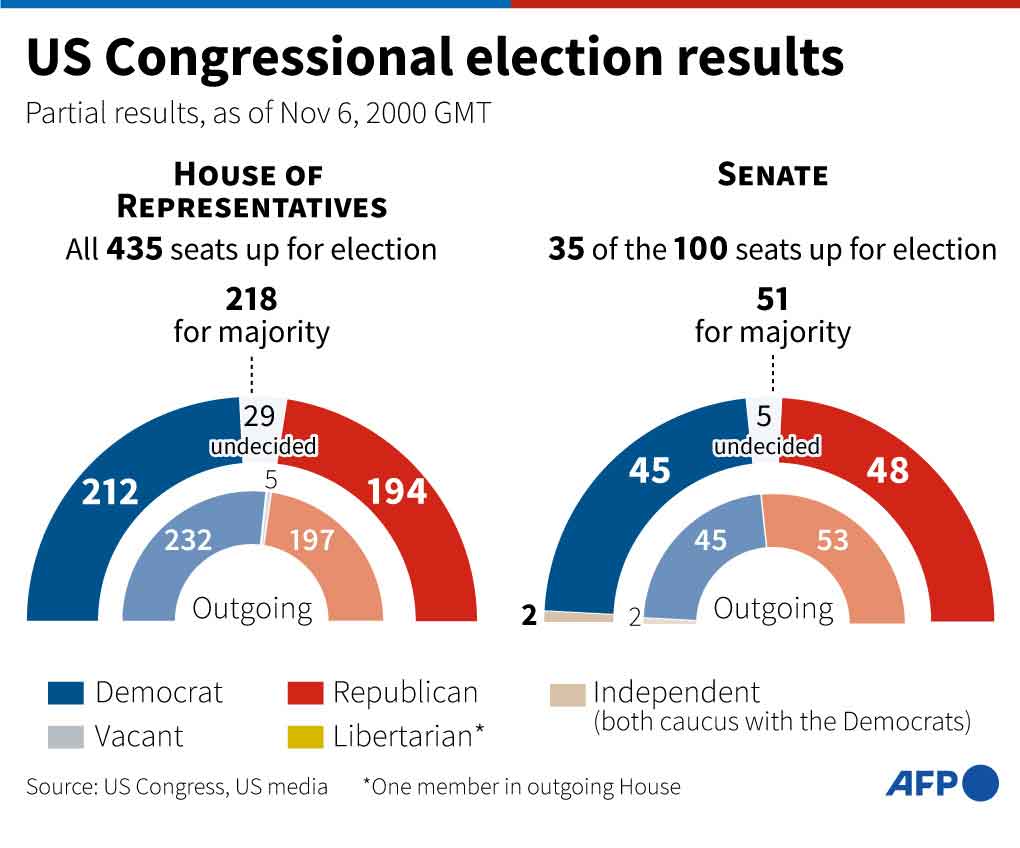 Trump aide test positive
In another blow to Trump's efforts, White House chief of staff Mark Meadows has been diagnosed with COVID-19, according to a source familiar with the situation.
Meadows, who frequently appears at public events without a mask, is the latest person within Trump's circle to contract the virus, which has killed more than 236,000 Americans. The news came as a third wave sweeps the United States.
Follow news10.pk on Twitter and Facebook to join the conversation