Pakistan's positivity rate of COVID-19 'high', finds WHO
Pakistan's positivity rate of the deadly coronavirus is now 22%, finds a report by the World Health Organisation (WHO).
Positivity rates, which are being monitored in all pandemic-struck countries around the world, is the percentage of positive results out of the total number of tests sampled.
Guidelines from the WHO recommend that countries looking to relax social distancing rules, lockdowns, or other public health measures should report a positivity rate of 5% or less, for two consecutive weeks.
Although Pakistan has ramped up its testing to over 29,000 tests per day lately, of those tests diagnosed upward to 22% have come back positive in total, notes the WHO.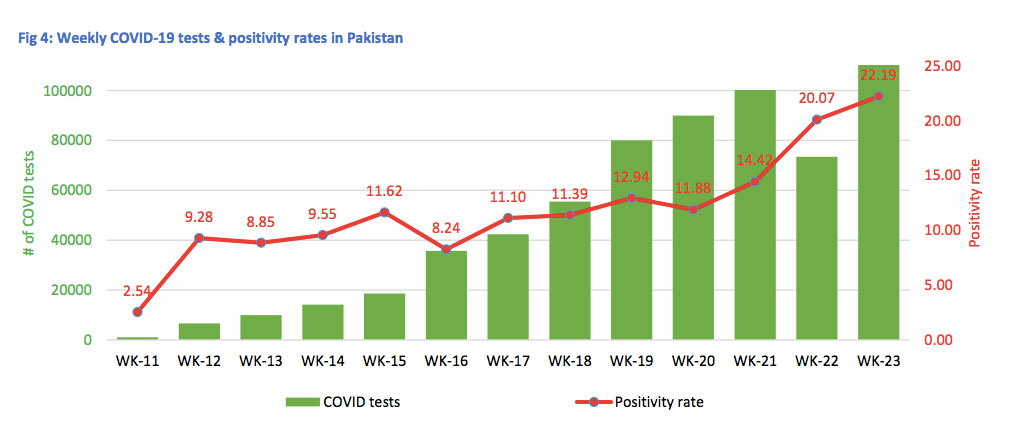 Meanwhile, Pakistan began easing its three-week lockdown in early May.
In a previous report of the WHO, dated June 4, a breakdown of the ratio by province was provided. Balochistan ranked the highest at 19%, followed by Khyber Pakhtunkhwa, 17%, Sindh, 16%, Punjab, 12%, Gilgit Baltistan, 9%, Azad Jammu and Kashmir, 4%, and Islamabad, 8%.
A report sent by a WHO representative to the Punjab government last week also pointed out the "high" positivity rate in the country.
According to the Johns Hopkins University in the United States, a high positivity rate may indicate that the country is "only testing the sickest patients who seek medical attention, and is not casting a wide enough net to know how much of the virus is spreading within its communities."
While a low rate of positivity "can be seen as a sign that a state has sufficient testing capacity for the size of their outbreak and is testing enough of its population to make informed decisions about reopening."
Follow news10.pk on Twitter and Facebook to join the conversation.