PDM to hold second anti-govt rally in Karachi today
KARACHI (News10) – The Pakistan Democratic Movement (PDM), an alliance of major opposition parties, is all set to hold second rally in Karachi today (Sunday) as a part of its anti-government campaign.
According to details, 160 feet long and 60 feet wide stage has been placed in Karachi's Jinnah Bagh while over 50,000 chairs have also been arranged to facilitate the participants.
---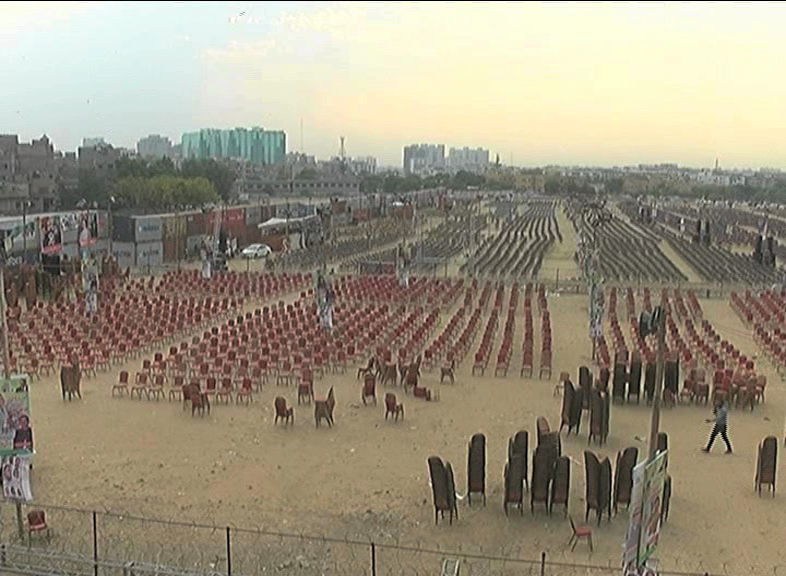 ---
PDM president and Jamiat Ulema-e-Islam-Fazl (JUI-F) chief Maulana Fazlur Rehman is already present in Karachi while Pakistan Muslim League-Nawaz (PML-N) vice president Maryam Nawaz will leave from Lahore at 11:00am.
Routes have also been defined for the caravans coming from across the Sindh and other parts of the country.
Pakistan People's Party (PPP) chairman Bilawal Bhutto Zardari has visited the rally venue and inspected the arrangements.
---
No institution independent in country: Bilawal Bhutto
---
Bilawal Bhutto Zardari has said that no institution is independent in Pakistan. There was a major incident of terrorism on October 18, PDM gave us an opportunity to start the struggle from here, this is a historic day, he added.
He said that on October 18, Benazir Bhutto returned and continued to compete. She never left the workers alone and kept on delivering her message till the end, democracy was achieved due to the sacrifice of two lives, he told.
Bilawal said that today, whole Pakistan will see the people on one side and the puppet administration on the other.
---
PDM s anti-govt campaign getting decisive: Maryam Nawaz
---
PML-N vice president Maryam Nawaz has said that she and her party leaders are not afraid of being arrested. She told that campaign against the incumbent government of PTI is getting decisive.
While responding to a question regarding Prime Minister (PM) Imran Khan's decision to not issue production orders, Maryam Nawaz said that those who think that VIP protocols are being given to the political leaders in jails are wrong.
---
Karachi rally will be public referendum: Murtaza Wahab
---
Sindh government spokesperson Murtaza Wahab declared PDM rally in Karachi as public referendum and said the case of 22 crore people of Pakistan will be fought on streets.
"Laborers and the poor are being exploited and unemployment is increasing in the country. Public has been crushed by inflation. The federal government bothered to care about coronavirus and standard operating procedures (SOPs) today.
"PPP Co-chairman Asif Ali Zardari was neither worried about cases against him in the past nor will he be distressed now. PDM's fight is continuing for the survival democracy.
"Statements of Sheikh Rashid should not be taken seriously; he should pay attention towards railways which has gone in bad condition in two years."
---
PDM doing show without power in its rallies: Shibli Faraz
---
Minister for Information and Broadcasting, Shibli Faraz has said that Pakistan Democratic Movement (PDM) is doing show without power in its rallies.
The minister took to social-networking website Twitter and posted that opposition parties have nothing to do with the issues of general masses as they are busy in crying over their personal interests.
He further suggested PDM president and Jamiat Ulema-e-Islam-Fazl (JUI-F) chief Maulana Fazlur Rehman to address the Karachi rally before the participants leave the venue.
Follow news10.pk on Twitter and Facebook to join the conversation