Prominent religious scholar Maulana Adil Khan shot dead in Karachi
Prominent religious scholar Maulana Adil Khan, along with his driver, were shot dead on Saturday in Karachi's Shah Faisal area, with Prime Minister Imran Khan chalking it up as "an attempt by India to create sectarian conflict across the country".
Adil Khan is the son of late Saleemullah Khan, the former president of Wifaq-ul-Madaris Al-Arabia and is the principal of Jamia Farooqi.
What the police is saying
According to police, the scholar was sitting in a Toyota Vigo, with the vehicle parked outside Shama shopping centre when suspects on motorcycles came up to him and shot him.
Police said that a third person, Umair, was also accompanying Maulana Adil and survived the incident. He had gone inside the shopping centre to buy mithai (sweet meats).
"The motorcyclists targeted him. It seems that he was being followed by terrorists," said police officials.
They added that five spent 9mm casings were recovered from the site.
Police chief Ghulam Nabi Memon said that three men were on a motorcycle. One got off and fired the shots.
"We are gathering statements from eye-witnesses," he said.
Memon said it was not a part of Maulana Adil's routine to go through this path.
A heavy contingent of police as well as Sindh Rangers soon reached the site of the incident and a probe with the help of CCTV cameras was undertaken.
After analysing the footage, Counter Terrorism Department (CTD) incharge Raja Umar Khitab said that it shows three persons fleeing the site. "There might have been more nearby as back up," he said.
"This is a conspiracy to incite sectarian violence," he added.
What the hospitals are saying
Meanwhile, sources in Liaquat National Hospital, where he was taken to, said that the scholar had already passed away when he arrived. According to the hospital's spokesperson, Maulana Adil suffered two bullet wounds.
Jinnah Postgraduate Medical Centre Executive Director Dr Seemi Jamali said that the body of Muhammad Maqsood, the driver of the deceased scholar, was brought to the facility's emergency ward.
Preliminary report to CM Shah
Inspector General of Police Sindh Mushtaq Mehr has submitted a preliminary report of the incident to Chief Minister Sindh Murad Ali Shah.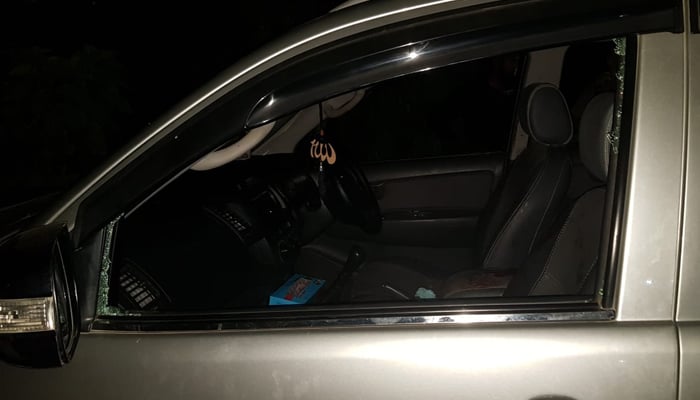 According to CM Shah's spokesperson, the report states that Maulana Adil's vehicle had stopped near the shopping centre and a companion had gone inside to make a purchase when two unknown suspects fired shots at him.
The preliminary report further states that five shots had been fired. The companion who survived, Umair, is currently hospitalised.
The chief minister has ordered that the culprits be arrested immediately. "Some extremist elements wish to disrupt peace in the city," he said.
'Indian attempt to create conflict' — PM Imran Khan
Prime Minister Imran Khan, deploring the incident, said: "Condemnable targeted killing of Maulana Adil of Jamia Farooqi in Karachi this evening."
"My government has known and I have repeatedly stated this on TV, since last 3 months [that] India attempts to target kill Aalims from Sunni and Shia sects to create sectarian conflict across the country," he said in a tweet.
The prime minister said that authorities have prevented a number of such attempts preemptively in the last few months.
"Our intelligence organisations and law enforcement agencies will nab culprits of this murder. Also, our ulema from all sects must ensure people do not fall prey to this nefarious Indian design to destabilise Pakistan," he added.
'An attack on national security' — Wifaq-ul-Madaris
Reacting to the development Wifaq-ul-Madaris said that the attack on Maulana Adil was an attack on the nation's peace and security.
"The martyrdom of Maulana Dr Adil Khan is an irreparable loss to the world of Islam," it added.
'Strongly condemn the assassination' — Governor Sindh Imran Ismail
Governor Sindh Imran Ismail strongly condemned the assassination and expressed profound grief and sorrow over the religious scholar's assassination, APP reported.
The governor termed it a "target killing incident", according to APP.
'Loss of entire Muslim Ummah' — Religious affairs minister Noor-ul-Haq Qadri
Minister for Religious Affairs and Interfaith Harmony Sahibzada Noor-ul-Haq Qadri also expressed his heartfelt grief and sorrow over Maulana Adil's assassination.
In his condolence message, the minister said the murder of the scholar was the loss of the entire Muslim Ummah.
'Deeply saddened' — Sindh education minister Saeed Ghani
Moreover, Sindh education minister Saeed Ghani said that he was deeply saddened after hearing of the Maulana and his companion's death.
"Not only was Dr [Adil] a good person, but he was a man with a broad base of knowledge," he said, adding that the attack was a "conspiracy" against Sindh and especially Karachi.
'Conspiracy to instigate violence' — Mufti Taqi Usmani
Renowned religious scholar, Mufti Taqi Usmani responding to the incident, said that the attack was a conspiracy to instigate violence in the country.
"It is the government's responsibility to immediately arrest the killers and avoid such a situation," he said.
'Anti-Pakistan elements' — JI chief Siraj-ul-Haq
Meanwhile, Jamaat-e-Islami chief Siraj-ul-Haq, reacting to the incident said that anti-Pakistan elements had attacked the religious scholar.
"Not only Pakistan but the entire Muslim ummah [has been deprived of a religious scholar]," he said.
The JI chief demanded that the killers of Maulana Abid be immediately arrested.
Follow news10.pk on Twitter and Facebook to join the conversation