PIA A320 crashes in Model Colony near Karachi airport; casualties feared
KARACHI: A Pakistan International Airlines (PIA) passenger plane crashed in a residential area near Karachi's Jinnah International Airport on Friday less than a minute before landing.
It is estimated that 97 people were aboard the plane, including 85 passengers and 12 members of the flight crew.
According to the Civil Aviation Authority, PIA flight PK-8303 from Lahore was about to land in Karachi when it crashed in the Jinnah Garden area near Model Colony in Malir.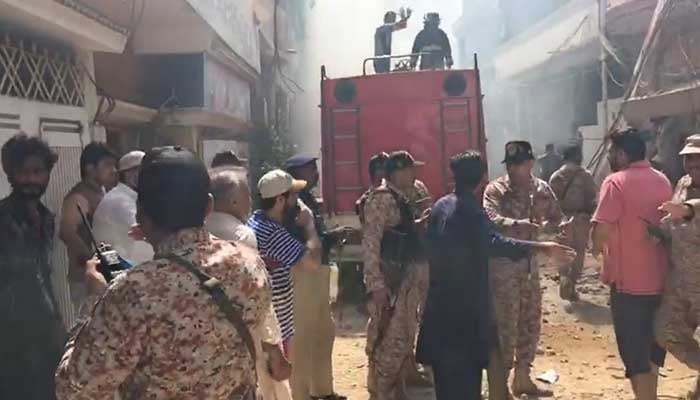 CAA sources said that its communication was cut off with the plane a minute before it was supposed to land.
Troops form the Pakistan Army's Quick Reaction Force and Pakistan Rangers Sindh arrived at the crash site shortly after to assist the civil administration in relief and rescue efforts.
Several houses were damaged in the area where the plane crashed.
Ambulances were faced with difficulty as the streets were quite narrow and the huge presence of people made it difficult for relief operations to continue.
PIA spokesperson Abdullah Hafeez said that said that the airline was receiving information in real time. He said that Air Marshal Arshad Malik was reaching Karachi in two hours to assess the situation.
He said that it was premature to point out any technical fault in the plane and an independent institution will carry out an investigation to ascertain the cause of the crash.
Hafeez said that the PIA would hold a detailed press conference to share the details of the crash soon.
Rescue sources said that 15-20 persons have been helped out from under the rubble. Eight persons have been injured and shifted to a hospital for medical treatment. The body of a 5-year-old and another person was recovered found from the site. "Due to the rush, we are encountering difficulties in carrying out relief operations," said SSP Malir. "People should avoid gathering at the accident site," he added.
Senior journalist Ansar Naqvi, who used to work for The News and was currently working for Channel 24 as its Director Programming, also died in the crash.
Chief of Army Staff General Qamar Javed Bajwa condoled over the loss of lives in the plane crash. The army chief directed the provision of full assistance to the civil administration in rescue and relief efforts.
The PIA has released a passenger manifest according to which 51 men, 31 women and nine children were aboard the PK-8303 flight.
Fateh Ilahi, Raheem Zain, Kashif Shabbir ahmad, Rizwan Ahmad and Bilal Ahmad are names of some of the passengers. Yasmin Iqbani, Farwa Ali, Armghan Ali, Fauzia Arjumand, Mohammad S Aslam, Mohammad Ataullah and Rai Ataullah were also on board the airplane. 
Follow news10.pk on Twitter and Facebook to join the conversation